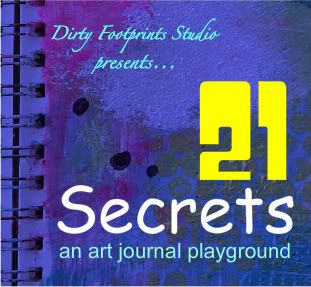 I have really been enjoying my time in my painting class BIG with Connie. She is amazing and the program she has created has been amazing. So I am super excited that she is offering a new program for art journalling called 21 Secrets because it's going to be the bomb.
Connie got together 21 awesome artists to share a secret about art journalling. That's 21 secrets...thus the name. The group is diverse and talented and I can't wait to see what kind of morsels of information they have for us.
I am especially excited about learning what Effy Wild has to teach. She is doing The Art Journal as Soul Mirror. Now that's my kind of art journalling. I love diving in deep and creating something from the soul.
Tami Chacon is doing something that intrigues me. She is doing Surreal Journal Fun. She is going to show us how to take images from magazines and turn them into works of art. Apparently it is a resist technique. Sounds new and cool.
Angelina Thompson is doing Letters From Your Inner Child. Again, right up my alley. It will be interesting to see how she encourages us to turn this into a journal page. So cool!
And of course Connie will be sharing her secrets with us. She is doing Get it Out, Get it Down. Secrets to face your journal fearlessly and paint like crazy. I can't say enough about Connie so I am psyched to see what she has in store for us.
I am thinking that while this is great for art journalling, I think it will also be great for anyone. You can use these tips for painting, writing, crafting, and healing.
21 Secrets goes on Sale on Monday. I can't wait!